Inside Liveblocks
Liveblocks raises $5M in seed funding from Boldstart, Atlassian, Seedcamp and more
Today, a year into our journey, I'm thrilled to announce that we have raised a $5M seed round from Boldstart, our lead investor, as well as Atlassian, Kima Ventures, Seedcamp and more.
March 16th, 2022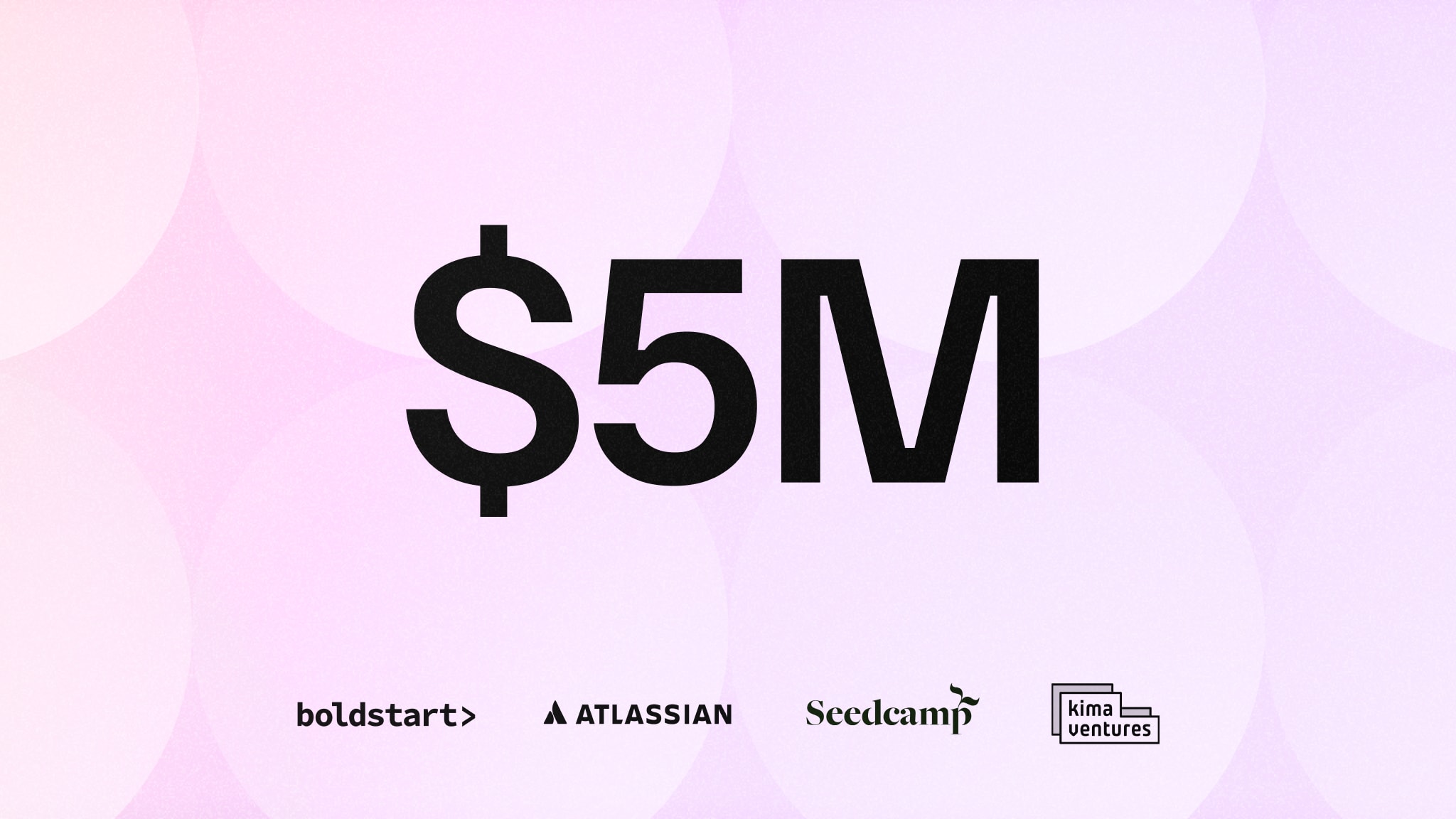 The widespread shift to remote work has been faster and more dramatic than I think any of us could have imagined. I was recently watching an interview with LinkedIn's Chief Economist who shared a stat I found staggering: pre-pandemic one in every 67 jobs was remote. Now it's one in seven.
I've been fortunate to work remotely since 2016, when the animation tool I had created led me to join InVision by way of an acquihire. At the time, InVision was a pioneer in remote work that grew to 1,000 employees with zero offices before anyone had even heard the word COVID-19. But throughout my years of working remotely I've also seen firsthand the struggles that come along with trying to collaborate with coworkers who aren't in the same physical space as you, especially when the tools we use everyday simply haven't kept pace. I felt this acutely in the early days of working with my Liveblocks co-founder, Guillaume.
Guillaume and I first connected when we were both working on the design tools team at InVision: he as an engineer and me as a product designer. We bonded at an in-person team event in San Francisco over being the only two French people in the company, and also our shared passion for making creative tools.
We eventually decided to leave our jobs to focus our efforts full-time on building a Google Slides competitor. The first several months were difficult. Guillaume was working from Montreal and I was working from New York, and we struggled to find a solution that would enable us to build a tool with the multiplayer functionality that was so critical. The tools we did manage to find had myriad problems. They didn't integrate easily into our infrastructure, made it difficult to build a version history panel and multiplayer undo/redo, were optimized for text collaboration rather than layer-based creative tools and required us to cobble multiple services together in order to have something work end-to-end.
Eventually we decided to create our own. Along the way, we realized that if we were having this problem, other companies must be as well. And so we decided to drop the presentation tool, and focus on turning the powerful backend we'd built into a set of APIs that any team could use to build real-time collaborative products.
And that's how Liveblocks was born.
Announcing our seed round
Today, a year into our journey, I'm thrilled to announce that we have raised a $5M seed round from Boldstart, our lead investor, as well as Atlassian, Kima Ventures, Seedcamp and more.
Boldstart and Seedcamp – early stage funds that have backed startups like Hopin, Snyk, Superhuman, Revolut and Wise — both returned after participating in our pre-seed round. As a company with two French founders, we were particularly proud to partner with the team at Paris-based Kima Ventures. And of course, we are thrilled to welcome Atlassian – the best-known company in the world for team collaboration and productivity software – as one of our new investors. (And, as a naturalized Australian citizen, I'm thrilled to be working with one of the country's biggest tech success stories!)
"The shift to remote work has changed the use case for many products quite literally overnight. Developers are tasked not only with the core user experience but also with making those experiences collaborative and multiplayer," said Chris Hecht, Head of Corporate Development, Atlassian. "This is why investing in Liveblocks was a no-brainer for us. The team has found a way to save engineering teams time and money by shortcutting the need to build collaborative infrastructure in-house."
"We invest in technical founders who are intensely committed to building a solution to a problem they've experienced themselves, so Liveblocks' mission and origin story couldn't have resonated more with us," said Ellen Chisa, boldstart ventures. "The need for what they're building couldn't be clearer and we're proud to support the team as they build the future of real-time collaboration."
Since we announced our pre-seed in September, the number of Liveblocks accounts has doubled, and connections – when a user connects to a Liveblocks room – have increased by more than 10x in the last three months. We've also seen a handful of companies leverage Liveblocks in really exciting ways: Clover, the all-in-one notebook for creatives, managed to make their product multiplayer in less than a day.
We believe that this kind of real-time collaboration is the future for every SaaS company, and we'll be using this round of funding to continue investing in product development so more companies can make that transition. We'll also be using it to build our team across engineering, design, marketing and HR.
Introducing Storage block
In addition to our funding, we're also launching Storage block, a conflict-free data storage solution that will enable anyone to edit and view the same data in real-time. Inspired by CRDTs, Storage block is a perfectly integrated, lightweight solution that serves as the persistence layer to enable multiplayer collaboration. It has the following features:
Multiplayer undo/redo: Storage Block's flexible APIs integrate perfectly in a multiplayer environment.

Offline support: We've created plenty of resources to ensure that you are backed up and changes made by any user will automatically sync when they're back online.

Conversion in hours, not months: Liveblocks integrates with JavaScript and React, as well as Zustand and Redux — the most popular state-management libraries –, so you can convert a non-multiplayer product in a matter of hours and without re-architecting your entire codebase.

Control over your data: Create custom authentication endpoints to control your users' permissions and use our API endpoints to clear real-time data from Liveblocks' servers and store it on your own database at the end of each session.
What's next for Liveblocks
I couldn't be more excited about the future at Liveblocks. Everyday I see the need for what we're building, and the creative ways that our users are incorporating our technology into their products. The stellar group of investors that we've attracted is just more evidence that our mission to make all digital experiences collaborative is resonating with others.
If you are interested in joining our team to help support that mission, check out our careers page. For more information or to sign up for Storage block, visit liveblocks.io/storage.