Customer stories
How Fermat enabled real‑time collaboration in their AI-powered whiteboard
Learn how Fermat, a collaborative canvas to augment creativity with AI, used Liveblocks to turn their core product into an easily customizable and extendable tool that teams can use for brainstorming, ideation, and convergent thinking.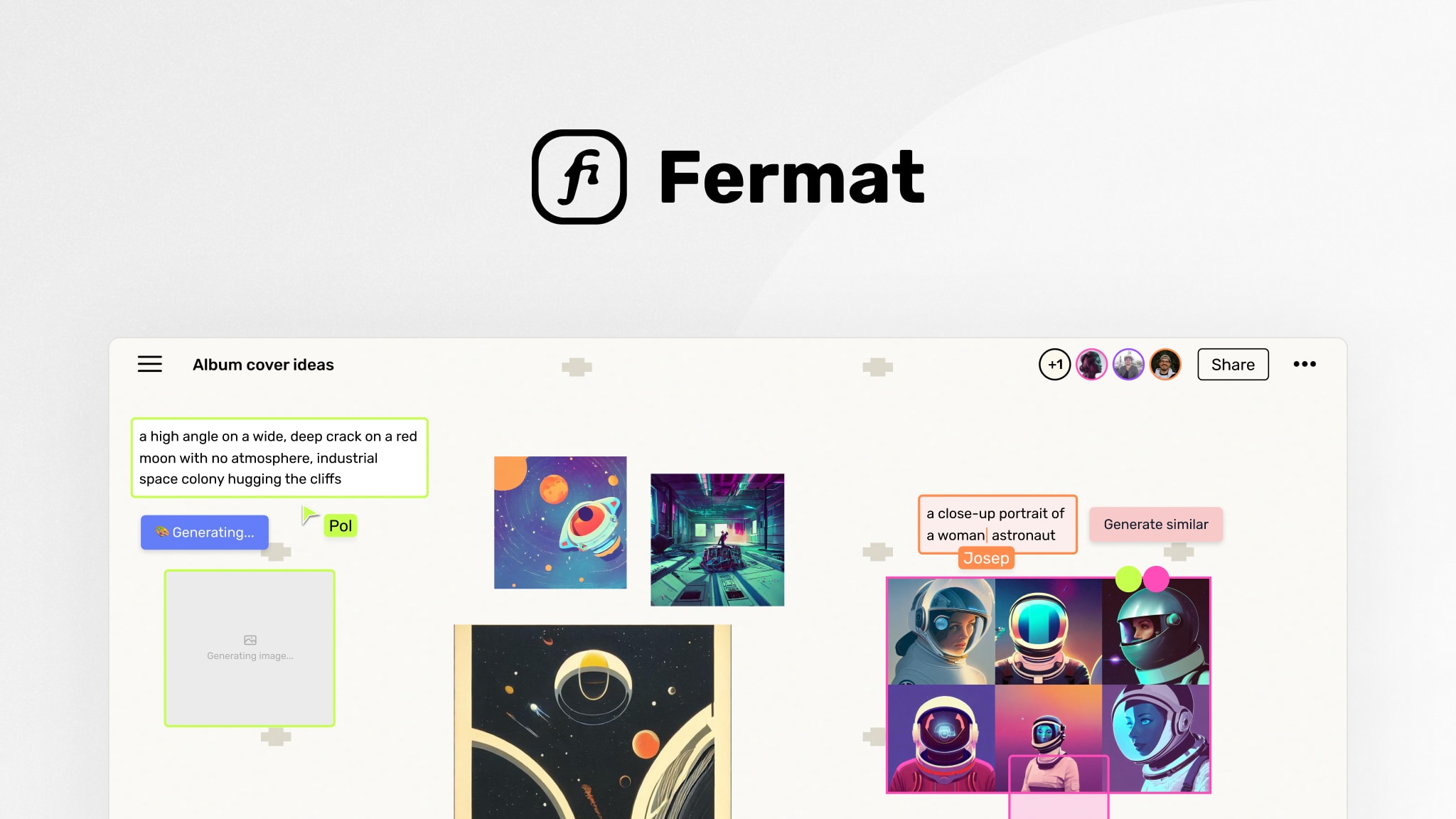 Challenge
Fermat is a collaborative canvas that offers a robust set of tools for enhancing your workflow with AI.
With Fermat, you can easily add multimedia blocks and define their behaviors, while harnessing the power of generative AI to transform your ideas into actionable plans. Its advanced capabilities allow users to automate tasks, streamline processes, and generate new insights, all while working together seamlessly on the same canvas.
According to Oscar Cuatrecasas, co-founder and CTO, Fermat's team saw the potential of integrating generative AI into their product and quickly seized the opportunity.
Companies within various industries use Fermat collaborative AI-powered whiteboard:
Any institution can leverage Fermat's customized enterprise offerings to build custom generative AI models using their historical data.
Creative teams use preconfigured templating kits in Fermat to convert mood boards of ideas into actionable plans for brainstorming, content creation, filmmaking, concept art, and writing.
Fashion and interior design companies partner with Fermat to facilitate close collaboration between knowledge workers and AI. Fermat's multimedia collaboration features help capture real-world knowledge and insights that drive innovation in these industries.
After building their initial canvas, Fermat realized collaboration was essential to their product's success. They wanted to enable users to collaborate in real-time, but they also wanted to ensure that the quality of their AI customization and user experience remained uncompromised.
As a startup with limited resources and time, Fermat had to decide how they would bring collaboration into their product. They recognized that developing their own collaborative infrastructure would be a time-consuming and challenging process, and they needed a solution that would allow them to focus on their core product while providing a seamless collaborative experience for their users.
If you're curious to learn more about how Fermat overcame these challenges, let's take a look.
Solution
Given the level of complexity it takes to build customizable generative AI models, Fermat turned to Liveblocks to power the collaborative portion of their application. By leveraging Liveblocks, Fermat was able to remove the burden of maintaining and scaling a real-time collaboration infrastructure, thus enabling them to concentrate on customizing their AI models and platform while still providing a powerful document model for their users.
The speed at which Fermat was able to integrate Liveblocks was impressive: once they refactored their existing product to support a multiplayer first ecosystem, the team was able to integrate Liveblocks into their application in about a week, saving valuable time and resources.
Because they built a custom reactive system in vanilla JavaScript, Fermat used the @liveblocks/client package to integrate Liveblocks and make their whiteboard collaborative.
We were able to integrate Liveblocks in just one week. It was impressive to see how quickly we were able to convert our existing product into a collaborative one.

Oscar Cuatrecasas

Co-founder and CTO at Fermat
Liveblocks is integrated into the entire canvas portion of the application to enable collaboration within their prodcut. Fermat relies on presence to enable live cursors, and conflict-free data types to store the document people collaborate on. They use these Liveblocks features to sync Fermat documents in real-time, while their backend service keeps track of user and document metadata and permissions.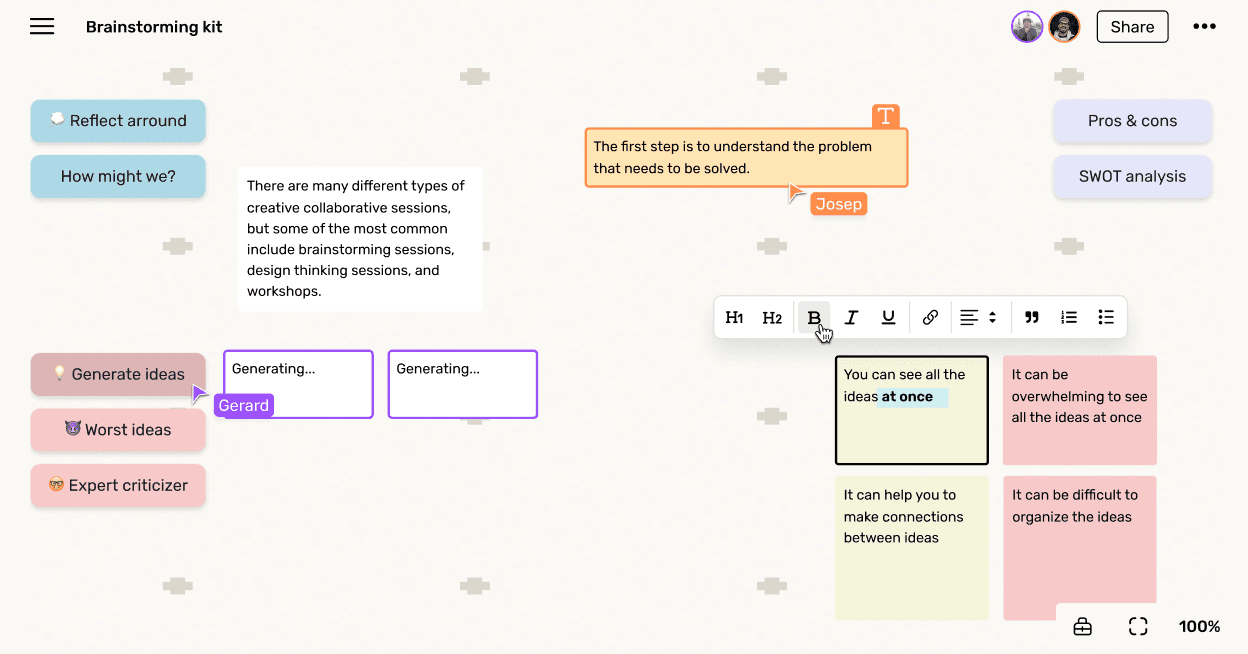 Results
Fermat leveraged Liveblocks to enable real-time collaboration and seamless sharing of designs among users. With Liveblocks powering the multiplayer canvas, Fermat was able to channel their focus into their core product. This ensured that the quality of their AI customization and user experience remained uncompromised while creating their digital canvas.
Working with Liveblocks has been a very personalized experience. It doesn't feel like interacting with a huge CRM corporation. We've been very happy with the response times we've been getting while collaborating on features together.

Oscar Cuatrecasas

Co-Founder & CTO at Fermat
With the rise of generative AI, Fermat sees an opportunity to return to its original mission and develop a physical product that allows people to collaborate in the real world with the help of generative agents.
If you'd like to learn more about Fermat, you can find them on Twitter and LinkedIn.